Last Updated on March 10, 2023

Our Virtual CISO Podcast series aims to offer the most high-value and relevant insight and guidance out there for information security, IT and business leaders. We're all about InfoSec… but that doesn't mean we need to stay inside the box of tools and techniques.
Though it's not often discussed, one of the biggest concerns we face in our industry is high job stress. Stress significantly impacts job tenure, job performance/burnout and executives' overall health and longevity.

"Stress significantly impacts job tenure, job performance/burnout and executives' overall health and longevity."
Pulling no punches, a recent episode features triple board certified holistic cardiologist, six-time book author, educator and thought leader
Dr. Joel Kahn
speaking with host John Verry on how InfoSec, IT and business execs can release on-the-job stress, proactively improve their health and avoid heart disease, the leading killer of both men and women worldwide.
A polished and inspiring speaker, Dr. Kahn is eager to discuss heart disease prevention, the focus of his world-class practice: "Test don't guess… How do you know if you might have clogged heart arteries if you've never been in an emergency room, you've never flunked a stress test, you've never had that awful feeling we call angina, chest pressure?"
Good question! Here are the 5 top approaches Dr. Kahn recommends to find out.
One: Get a heart calcium CT scan
"What I would certainly want to make sure we get in this conversation is… If you don't know something called your heart artery calcium score, you're not in the game of being responsible to your health, your family and your business," adds Dr. Kahn.
You get a heart artery calcium score from a heart calcium CT scan, which creates a quick picture of your heart in about ten seconds. Dr. Kahn explains: "It comes out zero… you're 99% protected from badness for the next five, ten years. If that number comes back 50 or 500 or 1,500, you've got silent and potentially serious heart disease. And you need to know that and get with somebody who knows what to do next, even if you feel good. Because heart disease doesn't give clues to executives very often until… the day they drop dead at their desk, in their bed, on the tennis court, or on a vacation. So get that test. It's about $100."

Two Get up-to-date blood work
Dr. Kahn also strongly advocates some specialized but "largely covered" blood work that your family doctor might not recommend. As Dr. Kahn puts it: "Most people are getting the same blood work that patients got in the 1960s. … Yet lab testing has moved ahead by light years."
Among the tests that Dr. Kahn recommends as "basic" to get a picture of your heart health are:
A high-sensitivity C-reactive protein test or other measure(s) of inflammation (there are several) to evaluate your risk of coronary artery disease, the leading precursor of heart attacks
A measure of Lipoprotein(a), an inherited "silent risk" form of cholesterol that impacts one out of four people. "It can destroy a heart valve, it can destroy the arteries to your heart and your neck," warns Dr. Kahn. Even if your typical cholesterol numbers look good, your Lipoprotein(a) count could be way high. (Dr. Kahn's latest book, Lipoprotein(a): The Heart's Quiet Killer, is all about this trending topic.)
Three: Get some vascular screening
Vascular screenings range from basic Life Scan tests to more comprehensive vascular tests that you can get at your local hospital or clinic that check specific areas like your carotid arteries. "In my office we do a very special digital carotid scan called a CIMT (for carotid intima-media thickness test) that will tell you your vascular age," notes Dr. Kahn. "That's a sophisticated question that you won't find most docs answering."
Four: Get a home blood pressure unit
Here's Dr. Kahn's logic on this: "You have a scale. You have a thermometer. The number one medical disease that kills people in the US and the world is actually hypertension, which leads to coronary artery disease and heart attack. You need to know your blood pressure." Hard to argue with that.
Five: Stay out of the hospital!
Nobody likes the hospital, but Dr. Kahn says bluntly: "My 2020 goal for my patients is only walk in a hospital to visit a relative. There are bad things happening in hospitals, from super infections to complications. And I am a hospital staff member. But nobody speaks up about it because it's a multibillion dollar industry nobody wants to swing their Don Quixote blade at. But it's true—stay out of hospitals."
Taking Dr. Kahn's advice in other respects seems like a great way to heed this final recommendation. His holistic approach to diagnosis, prevention and healing has enabled many of his patients and readers to avoid heart attacks and premature death from heart disease.
Be sure to watch/listen to this podcast and you might also reap that value! Anybody with a stressful job will benefit tremendously from this accessible and attention-grabbing episode. Please share the podcast link with coworkers, friends and family as well.
And if information security worries are stressing you out, contact Pivot Point Security. From outsourced expertise to security attestations like ISO 27001 or SOC 2 to third-party risk management (TPRM) and more, our proven, flexible approach ensures our clients' success (and reduces stress).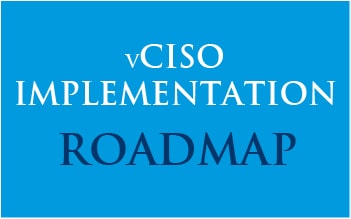 There are many benefits to bringing in outside information security talent into your organization, but it must be done right to realize success.
Download our vCISO Roadmap now!