Last Updated on March 16, 2023
Now more than ever, consumers spend increasing amounts of time on the Internet. With every social media account you sign up for, every picture you post, and every status you update, you are sharing information about yourself with the world. While social media platforms such as Facebook, Twitter, and Instagram are great for staying in touch with family and friends, they are also perfect targets for the cyber-scammers and identity thieves lurking in the shadows.
Fortunately, there are a number of best practices you can follow to connect with confidence and safely navigate the social media world:
Never click and tell:Limit what information you post on social media—from personal addresses to where you like to grab coffee. What many people don't realize is that these seemingly random details are all that criminals need to know to target you, your loved ones, and your physical belongings—online and in the real world. Keep Social Security numbers, account numbers, and passwords private, as well as specific information about yourself, such as your full name, address, and birthday.
Disable location services: Be sure to update your privacy and security settings to your comfort level for information sharing. Disable geotagging, which allows anyone to see where you are—and where you aren't—at any given time. It's often tempting to show those live photos in Tahiti, but is really worth notifying cybercriminals that you aren't around and that your home and accounts may be vulnerable?
Use a strong password: The longer it is, the more secure it will be. Use a different password for each of your social media accounts. Set up your security answers.  This option is available for most social media sites. This will reduce hackers' ability to gain access to multiple accounts if they manage to access the password for one.
Click links and interact with others cautiously: Social media accounts are regularly hacked.   Don't accept friend requests or offers to collaborate and share information with a suspicious, unknown, or duplicate account. Watch for suspicious language content or behavior among your friends.
Remember to log off when you're done: This is especially important if using a shared device. Don't let hackers get the keys to enter your accounts – once they are in, the damage could be insurmountable.
What's Next?
As Pete Cashmore, founder of Mashable, famously said, "Privacy is dead, and social media holds the smoking gun." The more you share online, the more ammunition you provide to hackers and identity thieves. Think before you post about how a criminal might use the information you're offering them. Most personal information should remain just that… personal.
Check out this episode of the Virtual Cisco Podcast with host John Verry and Dr. Eric Cole, Cybersecurity Consultant, Virtual CISO, Founder and CEO at Secure Anchor Consulting to learn more and get some easy-to-follow, practical advise:
Blog: EP#53 – Dr. Eric Cole – You Are a Target: Assessing Cybersecurity Risk | Pivot Point Security
To hear this episode all the way through, subscribe to The Virtual CISO Podcast on Apple Podcasts, Spotify, or our website.
*This article was written by Andrea VanSeveren, Jeffrey Stetz & Michael Sheppard-Gordon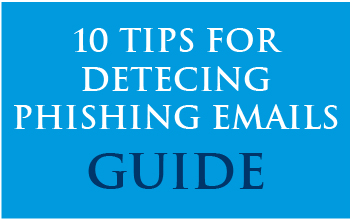 Phishing emails are tricky. Based on our Cyber Security Awareness Taining material, the 10 Tips for Detecting Phishing Emails infographic provides a cheatsheet of what to look for in unfamiliar emails.
Download our Detecting Phishing Infographic now!